Considering to including this with your Taiwan Day Tour x Private Car Tours? Read more to find out:
MUST DO THINGS AT TAMSUI x PRIVATE CAR TOURS
Tamsui is located at the northern tip of Taiwan along the north coast of Taipei. This place is where you can find authentic local cuisine from Taiwan's rich history. Moreover, this place is especially popular with the locals during the weekends. From young to old, never miss out this place if not you will regret it!
Consequently, read on to find out why this place is a must-visit in you are heading for authentic local food and many rich cultural sides. Read on to find out more!
What kind of shops are there?
This place is most renowned for its amazing sunset landscape, Tamsui is home to a variety of shops. From a large array of restaurants, cafés, shops, hawker stalls, street performers, traditional cultural performances, and is the gateway to Taiwan's scenic North Coast.
TOP 3 MUST GO PLACES IN TAMSUI
Tamshui Fisherman's Wharf
This place is where you can have a clear view overlooking the seas of Tamsui. The white surface of the bridge constantly changes colours in the reflection of the light. Moreover, the "Lovers Bridge" is in sight and it's a landmark of the Tamsui Fisherman Wharf. Apart from that, you can pick any freshly caught seafood which the owner will catch for you.
Tamshui Old Street
This place is a boardwalk-like area full of many different varieties of shops and activities there. From carnival games, restaurants, cafes and small bites. Furthermore, there is also a waterfront area to watch the sunset over the Tamsui River. Prepare to come with an empty stomach because you will definitely find lots of food to fill your bellies.
Wuji Tianyuan Temple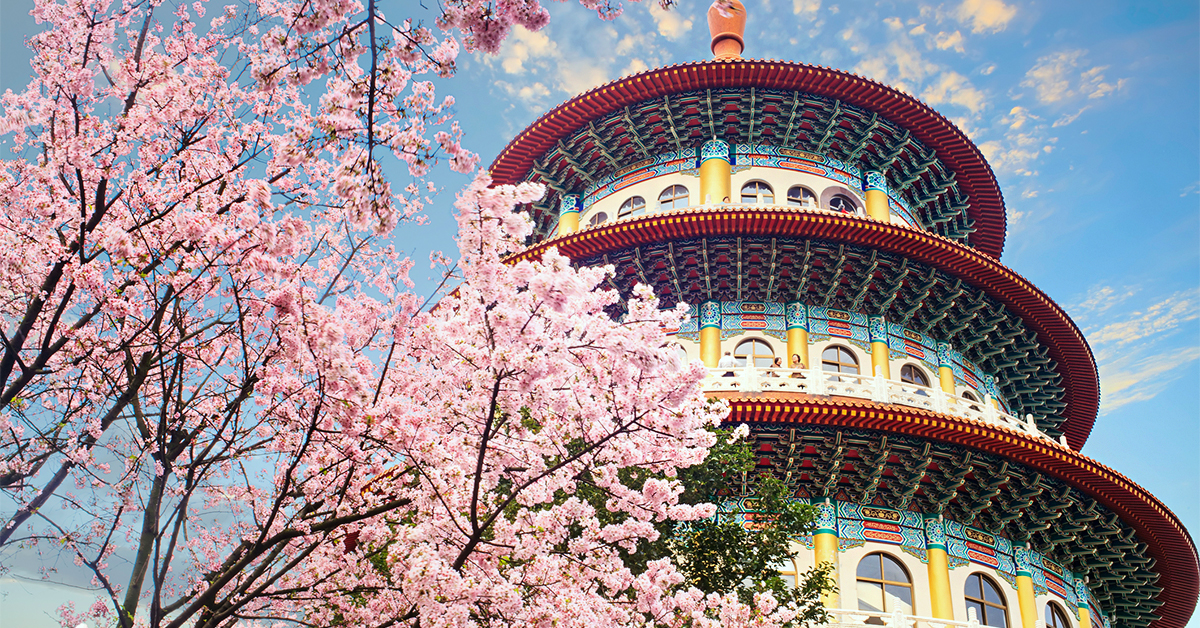 Japan might have its popular shrines and temple, however, Taiwan has one that lives up to its name too. This temple has an appealing structure which is the five-stores Altar in the middle. Apart from that, the surroundings are what attracted more people in this place. The government has plants cherry trees all around the building and you will be met with pink petals leave there. The best place to visit here to definitely the cherry blossom which is around mid-March.
Why Private Car Tours is your best bet for travelling in Taiwan?
Taipei may be well connected by trains, however, the distance will be a hassle for you to travel on a tight schedule. With different scenery and attractions on-site, it would be nearly impossible to travel by train or bus. Hence, we recommend you to incorporate private car tours into your itinerary. It saves the time and hassle of squeezing your brain cells dry to find transportation to get to the place you want!
P/S: If you book through our website for private car tours, you can save a ton as we are able to bundle the locations for you. Buy here now.
Saw a place which you want to go to Taiwan?
Why not approach us? I know this sounds like an ad but wait! I'm sure you won't regret reading on! Our services in www.cartours.com provide with driver together with a tour guide/translator. What's different from other services? Our itinerary is flexible where it can be fully customised for you or it can be bespoke where the planning calendar is all in your hands! We don't just use clickbait! Try us now for the full experience of private car tours to believe it for yourself.